Votes are now closed. You can still discover Cat lovers' stories
Meet the finalists!
Take a look at the video entries from our UK finalists! Thank you to all the cat parents who got through to this stage and sent us their videos, our jury is now watching all of the submissions from across Europe and trying to pick a winner - it's going to be a very hard decision!
CAT PARENT FINALIST - Cat Alan
CAT PARENT FINALIST - Cat Ronnie
CAT PARENT FINALIST - Cat Hugh
CAT PROFESSIONAL FINALIST - Vet Nurse Maria
For FELIWAY 25th Anniversary, Let's celebrate together all cat lovers' stories.
FELIWAY 25 Award will reward the Happy Cat stories selected by cat lovers and a jury to win great prizes.
It's fast and easy to compete for the FELIWAY 25 Award!
What can you win?
Cat Parent Category:
The winner will receive a
year's supply of FELIWAY Optimum
A one-to-one Virtual Cat Behaviourist session
PLUS a £100 Pets at Home Voucher.
In addition, you will be eligible for the £2,000 international prize with winners from other countries.
Cat Professionals Category:
The winner of the Cat Professional category will win a year's supply of FELIWAY Optimum for either in-practice or personal at home use
PLUS a £200 voucher for a retailer of their choice.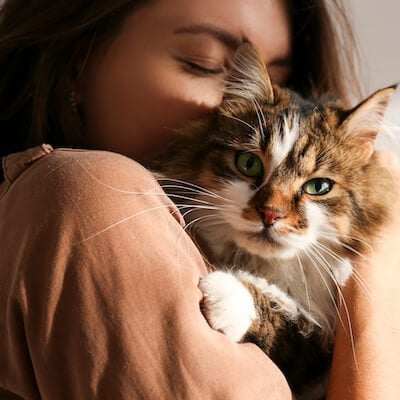 For cat parents
You and your cat…a loving and happy story. Tell us about your relationship. What have you done to improve your cat's life? Share what you do to live Happy Together.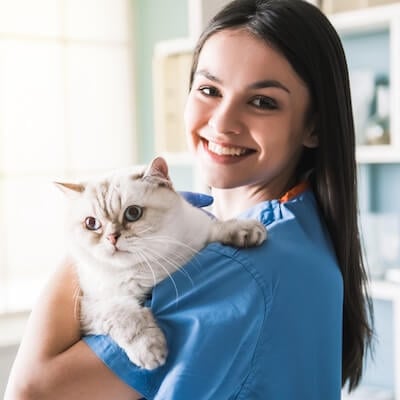 For cat professionals
Cats need caring Cat Professionals: veterinarians, clinic team members, cat carers in shelters. Tell us how you reduce feline stress in your clinic? Or about the cat that sticks in your mind that FELIWAY helped? Or the ways you improve the wellbeing of cats in your shelter?
Every cloud has a silver lining.
In the beginning, there was Mini, the brown tabby. Mini had been a fixture in our neighbourhood for as long as I, me, myself, and all the others, past or present, can remember. Legend had it she was born on a cold and windy night back in 2003, deep, very deep inside the cotoneaster shrubbery that runs the entire length of the four units of our apartment building. The fate of Mini's mother and siblings remains unknown. For a great many years, I didn't pay much benevolent attention to Mini: I considered the perpetual display of her feeding troughs, at the door of the old, white-haired Spanish widow's unit, a depreciation of my property. But as time, and more time, and ever more time, passed me by, I had a change of hearts, and, at first, I started regarding her more kindly, and later took part in feeding her, in the wee early morning hours.

Such was our little routine for some time, a secret, just between Mini and me, until early September 2019, which turned out to be the mother of all fateful months. Since a couple of days, my mother was in the hospital, and that happened to be the exact time a black and white tuxedo suddenly started answering the early morning Mini feeding call, adamantly refusing to take no for an answer. One thing led to another, and he became a permanent member of our little committee, much to Mini's chagrin, sometimes.

A couple of weeks later, my mother died. Life went on, as it inexorably does, and, feeling I was finally ready for another pet after more than 20 years, I started entertaining thoughts of adopting Mini, but since she rather adamantly rebuffed my advances, I eventually, gradually, transferred my endeavours onto the tuxedo, who showed up at the door around midnight, and, as regular checks from high up on my balcony proved, waited there patiently, huddled against the façade, come rain or shine, until the 4-5 am feeding call. I named him Bootsie.

As long as the weather allowed, I fed Bootsie outside, but as October made way for November, I moved the procedures into the entrance of my apartment building, where Bootsie ate his fill, after which I applied a flea and tick medicine, when required, plucked ticks from his face, often, disinfected the bite marks, and fed him treats.

November made way for December, and when January rolled around, there was a change in Bootsie's behaviour: he no longer waited at the door. Some days, he even failed to show up altogether. Maybe he transitioned from adolescence into adulthood, and hormones were plaguing him, since sometimes, I caught him chasing other cats, when he wasn't being chased by them; I also noticed he had started spraying.

As January slipped into February, Bootsie got ever more capricious, now not showing up more often than not, one day greeting me friendly, the next refusing to step inside, even running off, like the devil was at his coattails, when he caught sight of me.

Then one fine day, it was March the 5th, 2020, on impulse, I decided to trap him, which wasn't difficult since I had managed to lure him inside that day. I had made the arrangements with a local vet since quite some time already, so I took him there later that day, to be checked out, and neutered. He's been with me ever since, and, while he is very far from being a loving cat, he is astonishingly easy to accommodate: always stays on the floor, never jumps onto anything, except the bed, but even taking that jump took him over a year. Never uses his nails on anything, except his litter mat, and a coconut fiber mat I bought specifically for that purpose. He doesn't mind having his fur and his teeth brushed, but on the other hand gets all in a tizzy over the clipping of his nails. He has evolved into being quite the picky eater, and that too is ok.

He'll be my boy for as long as he lives.
Love this photo?
Share it!