Votes are now closed. You can still discover Cat lovers' stories
Meet the finalists!
Take a look at the video entries from our UK finalists! Thank you to all the cat parents who got through to this stage and sent us their videos, our jury is now watching all of the submissions from across Europe and trying to pick a winner - it's going to be a very hard decision!
CAT PARENT FINALIST - Cat Alan
CAT PARENT FINALIST - Cat Ronnie
CAT PARENT FINALIST - Cat Hugh
CAT PROFESSIONAL FINALIST - Vet Nurse Maria
For FELIWAY 25th Anniversary, Let's celebrate together all cat lovers' stories.
FELIWAY 25 Award will reward the Happy Cat stories selected by cat lovers and a jury to win great prizes.
It's fast and easy to compete for the FELIWAY 25 Award!
What can you win?
Cat Parent Category:
The winner will receive a
year's supply of FELIWAY Optimum
A one-to-one Virtual Cat Behaviourist session
PLUS a £100 Pets at Home Voucher.
In addition, you will be eligible for the £2,000 international prize with winners from other countries.
Cat Professionals Category:
The winner of the Cat Professional category will win a year's supply of FELIWAY Optimum for either in-practice or personal at home use
PLUS a £200 voucher for a retailer of their choice.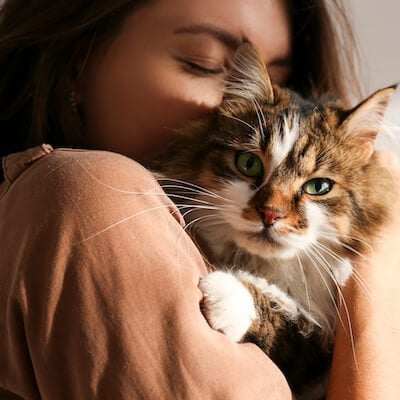 For cat parents
You and your cat…a loving and happy story. Tell us about your relationship. What have you done to improve your cat's life? Share what you do to live Happy Together.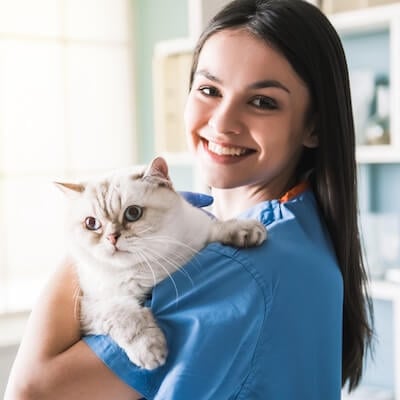 For cat professionals
Cats need caring Cat Professionals: veterinarians, clinic team members, cat carers in shelters. Tell us how you reduce feline stress in your clinic? Or about the cat that sticks in your mind that FELIWAY helped? Or the ways you improve the wellbeing of cats in your shelter?
The Grand Duchess Annie-stays-'ere
Annie came to me via SAFE cats Warrington. I had contacted them telling them that it didn't matter the age or ability of the cat, I just wanted/needed a furry mammal to love.

I was in very low spirits, my daughter had left home, my business was failing, a friendship had ended very badly etc. I was collapsing mentally and emotionally, my brain wasn't functioning, I desperately needed help.

And there she was, the Duchess had been abandoned by her previous owners because she was 15 years old and deaf and needed extra love. They had taken her to the vet to be euthanized. Her long fluffy coat was matted, she was extremely thin and very sad.

It was love at first sight, as she snuggled into my arms, she knew she was home and I knew I'd never let her go. She settled in my flat very quickly, happily being an indoor cat.

We healed each other, the love between us grew and my mental health improved. She was without doubt, the sweetest natured cat I have ever met, gental and affectionate. I told her all my problems, my hurt, my feelings, she happily listened with her wise eyes, purring gently.

I only had her for 18 months. I knew she was getting herself ready to cross the rainbow Bridge. She slept on and off in my arms for two days until she finally left this world early March 2020

I've had cats before and now have a beautiful young cat, full of character called Emily Pankhurst. I have loved them all with all my heart. But the Duchess, well she was so very, very special. She saved my life, just as I saved hers.

Rest in peace Grand Duchess Annie-stays-'ere, thank you for letting me love you in your declining years, it was an honour.
Love this photo?
Share it!