Votes are now closed. You can still discover Cat lovers' stories
Meet the finalists!
Take a look at the video entries from our UK finalists! Thank you to all the cat parents who got through to this stage and sent us their videos, our jury is now watching all of the submissions from across Europe and trying to pick a winner - it's going to be a very hard decision!
CAT PARENT FINALIST - Cat Alan
CAT PARENT FINALIST - Cat Ronnie
CAT PARENT FINALIST - Cat Hugh
CAT PROFESSIONAL FINALIST - Vet Nurse Maria
For FELIWAY 25th Anniversary, Let's celebrate together all cat lovers' stories.
FELIWAY 25 Award will reward the Happy Cat stories selected by cat lovers and a jury to win great prizes.
It's fast and easy to compete for the FELIWAY 25 Award!
What can you win?
Cat Parent Category:
The winner will receive a
year's supply of FELIWAY Optimum
A one-to-one Virtual Cat Behaviourist session
PLUS a £100 Pets at Home Voucher.
In addition, you will be eligible for the £2,000 international prize with winners from other countries.
Cat Professionals Category:
The winner of the Cat Professional category will win a year's supply of FELIWAY Optimum for either in-practice or personal at home use
PLUS a £200 voucher for a retailer of their choice.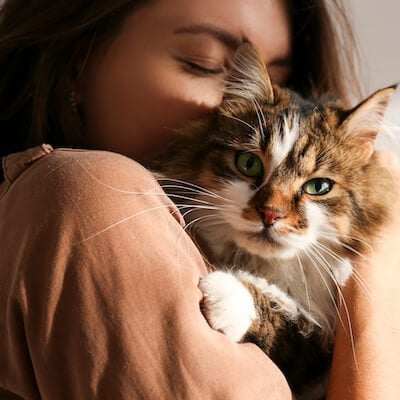 For cat parents
You and your cat…a loving and happy story. Tell us about your relationship. What have you done to improve your cat's life? Share what you do to live Happy Together.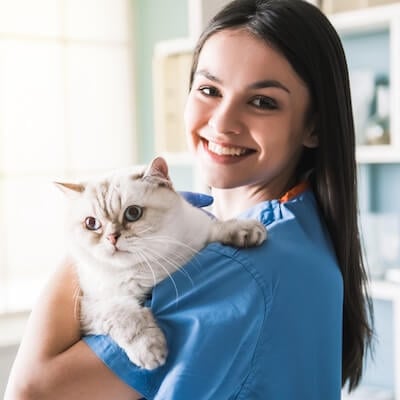 For cat professionals
Cats need caring Cat Professionals: veterinarians, clinic team members, cat carers in shelters. Tell us how you reduce feline stress in your clinic? Or about the cat that sticks in your mind that FELIWAY helped? Or the ways you improve the wellbeing of cats in your shelter?
Tahlia
When I was growing up, I was desperate for a feline companion. Every birthday and Christmas, a kitten was at the top of my list. For years I begged my parents to let me have a cat, but they weren't keen on the idea and we grew up with pet bunnies instead, which I loved of course, but I still dreamed of having a cat one day.

Once I was married and we moved into a place of our own, I began visiting local rescue centres. I met lots of amazing cats, but I never really connected with any of them. Until I met Tahlia.

I discovered a tiny independent cat rescue centre just around the corner from us and arranged a visit. She caught my eye instantly. She was insanely beautiful with a long coat in an array of warm colours and piercing eyes. I walked into her pen and reached out a hand to give her a stroke, she rolled over immediately and started flexing her paws. She was part Maine coon, so her paws were huge and she had these little pink toes covered in fluff! I knew instantly that she was the one for me. We just felt so relaxed and at ease around eachother straight away and were so comfortable in eachothers presence. We started the adoption process there and then.

I remember the day we brought her home like it was yesterday. She meowed in the car all the way home, it must have been so strange for her. But, as soon as we got into the house she excitedly started running around, smelling everything in sight and exploring her new surroundings. I could tell she felt at home from day one and we couldn't remember ever not having her there.

I ended up volunteering at the rescue centre we adopted her from and over the years adopted 3 more wonderful cats who needed homes. Tahlia welcomed each of them into our home gracefully, mothered them, groomed them, was consistently patient with them.

She was friendly to anyone that visited us. She had this gentle nature which had a calming effect on us all. She was also very funny and never failed to make me smile. She used to jump up at the door when the postman came, just like a puppy! Not to mention her attitude that time we tried her with a lion cut hair style. She was very unimpressed at first, but then she seemed to relish the new found freedom of not having such long hair weighing her down. She loved a game of hide and seek and was definitely a girly girl, preferring to lie in a pile of my shoes or sit inside a Primark bag! We became the very best of friends. The days just felt brighter when she was around.

Sadly it was short lived and after only a couple of years Tahlia began to fall ill. The vets did what they could for her, but she stopped eating and became tired. Tahlia died peacefully at home shortly after of age related illnesses and when she left she took a part of me with her. She quite literally left pawprints on my heart and I'll forever be grateful that she chose me to spend her last few years with. My fur baby, my angel, my Tahlia.
Love this photo?
Share it!