Votes are now closed. You can still discover Cat lovers' stories
Meet the finalists!
Take a look at the video entries from our UK finalists! Thank you to all the cat parents who got through to this stage and sent us their videos, our jury is now watching all of the submissions from across Europe and trying to pick a winner - it's going to be a very hard decision!
CAT PARENT FINALIST - Cat Alan
CAT PARENT FINALIST - Cat Ronnie
CAT PARENT FINALIST - Cat Hugh
CAT PROFESSIONAL FINALIST - Vet Nurse Maria
For FELIWAY 25th Anniversary, Let's celebrate together all cat lovers' stories.
FELIWAY 25 Award will reward the Happy Cat stories selected by cat lovers and a jury to win great prizes.
It's fast and easy to compete for the FELIWAY 25 Award!
What can you win?
Cat Parent Category:
The winner will receive a
year's supply of FELIWAY Optimum
A one-to-one Virtual Cat Behaviourist session
PLUS a £100 Pets at Home Voucher.
In addition, you will be eligible for the £2,000 international prize with winners from other countries.
Cat Professionals Category:
The winner of the Cat Professional category will win a year's supply of FELIWAY Optimum for either in-practice or personal at home use
PLUS a £200 voucher for a retailer of their choice.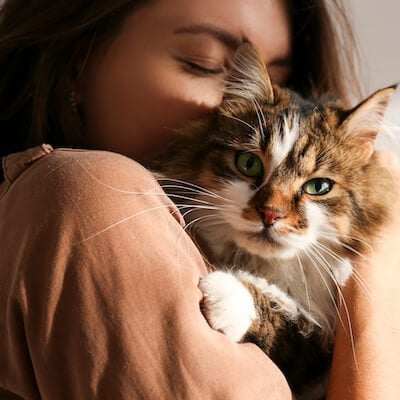 For cat parents
You and your cat…a loving and happy story. Tell us about your relationship. What have you done to improve your cat's life? Share what you do to live Happy Together.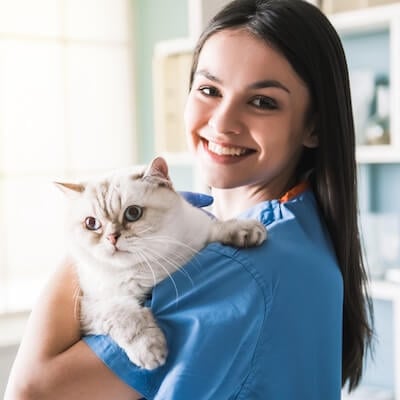 For cat professionals
Cats need caring Cat Professionals: veterinarians, clinic team members, cat carers in shelters. Tell us how you reduce feline stress in your clinic? Or about the cat that sticks in your mind that FELIWAY helped? Or the ways you improve the wellbeing of cats in your shelter?
Feral Saviour
Crackie adopted us about 7 years ago as a completely feral kitten after breaking in to a ground floor flat we'd just moved in to, she was frighteningly underweight, covered in fleas and had what seemed to be small, infected burn marks over much of her little body but despite all this still had the fight of a warrior and wouldn't let us anywhere near at first, she couldn't 'meow' properly and the sound came out like a crackling fire (which is how she ended up with her name). Over the course of many months of trying to build trust with her (and many gashes, scratches and bite marks!) she began to regain her strength and health (and indeed her voice which nowadays gets pretty much constant use!), we still wonder sometimes how the trust actually did build so quickly given we were having to regularly fight and pin her down to treat the infections on her skin but I guess that she somehow knew it needed to be done.

Crackie flourished and grew into a loving (and slightly lazy) diva of a housecat who now has no fear of humans and likes to have a chat with absolutely anyone who will stop and listen – she's never been one for playing but getting into bed alone is no longer an option in our house.

A couple of years back, we had to move home and, given Crackie's history, we knew it wouldn't easy. After being unceremoniously stuffed into a travel box and then into a taxi, we arrived at our new home around the same time as the movers so opened the cage inside the kitchen which could be completely closed off as all the doors were open with movers in and out – we heard meowing for a while but then it went quiet so we assumed she had settled somewhere and gone to sleep so we stayed out of the room to avoid disturbing her. It was fairly late in the evening by the time the move was finished, we were both exhausted and it was pitch black outside so we made up a mattress in the bedroom and went into the kitchen to get Crackie…. She was nowhere to be found. We were beside ourselves with worry, we just assumed that a mover must have opened the back door and she had ran out but there was nothing we could do, it was late, we didn't know the area too well and had no transport so we decided to leave the back door open just in case and went to bed, however, we were still mystified about how it had happened – the movers had been told to not go into the kitchen under any circumstances and the back door was actually locked, so, how had she got out?

Early the following morning, we got up and searched the house straight away but there was still no sign, however, whilst digging through boxes for a couple of mugs my husband called me and said he could hear a faint 'meow' from somewhere but couldn't figure out from where – hope was not lost! After a few minutes of calling and waiting for a meow response, we realised the desperate calls were coming from the oven! (The new kitchen had a built in oven) – we snatched open the oven door, and, nothing. The oven was empty. We were perplexed, we could still hear her, clearly now, and it definitely coming from the empty oven so grabbed a chair and climbed on top of the housing unit to see if that revealed anything and noticed a hole at the top, quite small but probably just about big enough for a medium cat to fall through! Now what? We immediately dug through boxes to find a screwdriver and set about the oven, we pulled it forward slowly not knowing what to expect and then saw a furry pair of paws coming out of the gap between the unit and the now half removed oven, as we continued to pull it slowly forward, the furry paws turned into a very indignant looking head and a second or two later a rather dishevelled looking Crackie leapt from the unit and proceeded to angrily meow at us both for quite some time!

Over the coming weeks (after immediately covering the hole in the oven housing!), Crackie began to settle to her new home but was still restless, including being scared of the staircase as it was something she'd never seen before in addition to the indignity of using a litter box as she'd always had her own garden which, for now, she was only allowed to look at! So that's when we decided to try the Feliway plugin to help things along and the difference was noticeable after just a couple of days – she stopped wandering around looking lost and even conquered the big bad staircase, in fact, the change was so fast and so drastic that we started allowing some (supervised) outdoor time so that she no longer needed to suffer the indoor WC!

Nowadays, it's like this has been her house all her life, she rules the roost and I think the neighbours know her better than us! We have no doubt that part of the success of her new life is down to Feliway and the plugin magic it cast as the difference we saw was so fast and so drastic that it simply can't be ignored!
Love this photo?
Share it!