Votes are now closed. You can still discover Cat lovers' stories
Meet the finalists!
Take a look at the video entries from our UK finalists! Thank you to all the cat parents who got through to this stage and sent us their videos, our jury is now watching all of the submissions from across Europe and trying to pick a winner - it's going to be a very hard decision!
CAT PARENT FINALIST - Cat Alan
CAT PARENT FINALIST - Cat Ronnie
CAT PARENT FINALIST - Cat Hugh
CAT PROFESSIONAL FINALIST - Vet Nurse Maria
For FELIWAY 25th Anniversary, Let's celebrate together all cat lovers' stories.
FELIWAY 25 Award will reward the Happy Cat stories selected by cat lovers and a jury to win great prizes.
It's fast and easy to compete for the FELIWAY 25 Award!
What can you win?
Cat Parent Category:
The winner will receive a
year's supply of FELIWAY Optimum
A one-to-one Virtual Cat Behaviourist session
PLUS a £100 Pets at Home Voucher.
In addition, you will be eligible for the £2,000 international prize with winners from other countries.
Cat Professionals Category:
The winner of the Cat Professional category will win a year's supply of FELIWAY Optimum for either in-practice or personal at home use
PLUS a £200 voucher for a retailer of their choice.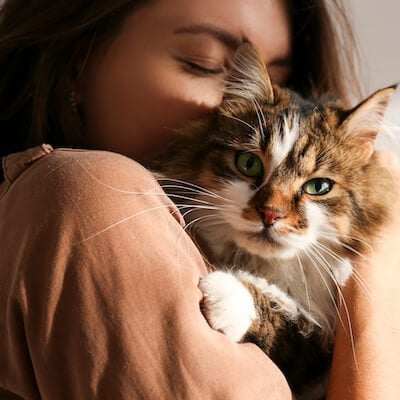 For cat parents
You and your cat…a loving and happy story. Tell us about your relationship. What have you done to improve your cat's life? Share what you do to live Happy Together.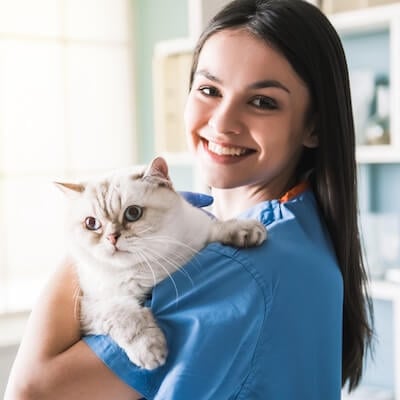 For cat professionals
Cats need caring Cat Professionals: veterinarians, clinic team members, cat carers in shelters. Tell us how you reduce feline stress in your clinic? Or about the cat that sticks in your mind that FELIWAY helped? Or the ways you improve the wellbeing of cats in your shelter?
Cleo; At risk of death to foster fail
When I moved into my first home in 2016 it was far too quiet, I had always been used to the company of animals. So I signed up to become a cat foster carer for my local Blue cross branch. I fostered Lola for 9 months and when she eventually found her forever home it was lovely and heart breaking at the same time. I thought it would be a while before I was needed again to foster a cat, but the following week I was contacted and ask to come in and meet Cleo (28th September 2018).

Cleo was struggling in the cattery as she found it very stressful. She had been rehomed several times due to no fault of her own. Her first owners moved abroad and left her in the care of their neighbors however 6 years later the owners child developed allergies and asked the Blue cross to help care for her. Lucky they did as Cleo was suffering with hyperthroidism and the medication administered did not agree with her. Cleo was booking in for surgery to remove her gland. Her thyroid removal was successful however hours later she took a turn for the worst and was at risk of death due to difficulties breathing caused by the swelling in her neck. The vet managed to incubate and safe her life. 25 days later Cleo had found her forever home (little did I know!)

Cleo took a few weeks to settle in her foster home with me, she enjoyed spending time in her own room where she felt safe. She slowly came out of her shell and ventured downstairs for some belly rubs.
Cleo went back to the blue cross 2 months later as I had a 2 week holiday booked. But in that time I realised I missed her, she had become a big part of my life, she was my family, I loved her (and I think she loved me.)

On my return I contacted the Blue Cross to inform them I had become a foster fail and fallen in love with Cleo and wanted to offer her a forever home. On the 9th February 2019 (after she had been cleared by the vets for rehoming) I signed Cleo's adoption paperwork.

At 12 years old Cleo had found her forever home to live out her golden years being waited on hand and foot by her adoring human.
Love this photo?
Share it!