Votes are now closed. You can still discover Cat lovers' stories
Meet the finalists!
Take a look at the video entries from our UK finalists! Thank you to all the cat parents who got through to this stage and sent us their videos, our jury is now watching all of the submissions from across Europe and trying to pick a winner - it's going to be a very hard decision!
CAT PARENT FINALIST - Cat Alan
CAT PARENT FINALIST - Cat Ronnie
CAT PARENT FINALIST - Cat Hugh
CAT PROFESSIONAL FINALIST - Vet Nurse Maria
For FELIWAY 25th Anniversary, Let's celebrate together all cat lovers' stories.
FELIWAY 25 Award will reward the Happy Cat stories selected by cat lovers and a jury to win great prizes.
It's fast and easy to compete for the FELIWAY 25 Award!
What can you win?
Cat Parent Category:
The winner will receive a
year's supply of FELIWAY Optimum
A one-to-one Virtual Cat Behaviourist session
PLUS a £100 Pets at Home Voucher.
In addition, you will be eligible for the £2,000 international prize with winners from other countries.
Cat Professionals Category:
The winner of the Cat Professional category will win a year's supply of FELIWAY Optimum for either in-practice or personal at home use
PLUS a £200 voucher for a retailer of their choice.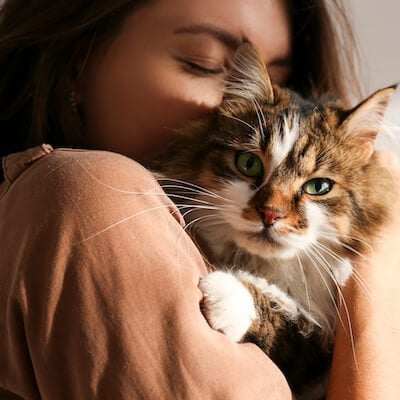 For cat parents
You and your cat…a loving and happy story. Tell us about your relationship. What have you done to improve your cat's life? Share what you do to live Happy Together.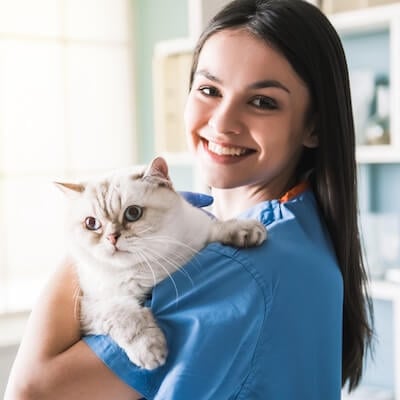 For cat professionals
Cats need caring Cat Professionals: veterinarians, clinic team members, cat carers in shelters. Tell us how you reduce feline stress in your clinic? Or about the cat that sticks in your mind that FELIWAY helped? Or the ways you improve the wellbeing of cats in your shelter?
When everyone else gave up on a beautiful, scared cat.
A local yard wanted to recruit a couple of 'feral' cats from a charity… They were dropped off where I kept my ponies as I'm an early bird, I ended up picking up the responsibility of feeding them morning and night whilst they were caged during the first 2 weeks.
Once let out, the people who 'wanted' them, didn't want them fed and the first cat ventured off looking for food and got hit by a car (and died). The second was scared and chased off by the dogs at the yard whenever he came up, the yard owners didn't care and decided the cat was 'useless' as he wasn't catching any rats so still shouldn't be fed. They also then got other kittens that they did 'want', who also then had kittens of their own… who also chased him off.
The scared cat began living in the hedge by my ponies and I decided to carry on feeding him myself. I spoke many times of taking him home if needed (I wasn't looking for a cat but he was scared, unhappy and alone) it was snubbed, despite him not being looked after or cared about.
Fast forward a year of me feeding/worming/defleaing, the cat who always had gummy eyes, got really bad (they were very swollen, sore and I was getting more worried). I was fed up keep saying I was concerned and decided I'd risk being thrown off of the yard with my ponies as I couldn't watch him continue to suffer - so I contacted the charity myself, explained everything, sent pictures and had him signed over to me (whilst also discovering he was from a multi-cat household, so most likely never prepared for feral life anyway, I was so upset that a charity could do this to him, let alone the yard!!). I was also angry at myself for waiting so long to act but I was worried about the repercussions, having a rescue pony - him having a consistent life is so important, I didn't want to risk his home either.
I took Ronnie to the vets, he was diagnosed with entropion and horrendous teeth - he was operated on for both and lost a fair amount of his teeth.
He was so scared of everyone and it's taken a year of being at my home, him hiding for days after if the door went or we had to have work people in but he is now a 'normal' cat who plays with toys, lays all over me, chases me up for food, and sleeps content, not on edge at all. I have used many of the Feliway plug ins and sprays over the last year+ (and did years previously for my cat with hypertension) and I wouldn't be without it. I wasn't looking for any other animals having lost my last house animal a couple of years previously - but I am way more than happy Ronnie is now part of my family and he shows his gratitude every single day.
Love this photo?
Share it!